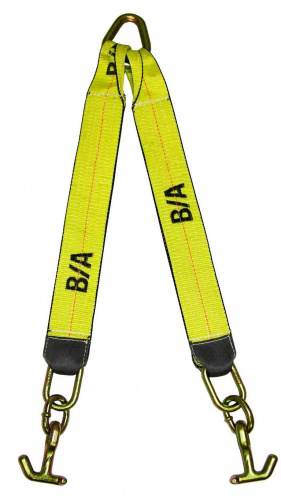 V STRAP W/HAMMERHEADS 24in LEGS
Review This Item
$

48.69
Reg. Price $64.92
You Save $16.23
InStock
V STRAP W/HAMMERHEADS 24in LEGS
SKU: N711-8CH
Additional items you might be interested in:
V-STRAP W/HAMMERHEAD T-J COMBO HOOKS, 24" LEGS
Specifications
3 Inch 3 Ply Grade 70 V Strap with HammerheadTM Hooks. 24 Inch Legs.

WLL: 5,400 lbs at a 45 degree angle
Weight: 5.50 lbs
B/A Products Co. has been creating and manufacturing straps and web slings since 1980. We are proud to have helped to set the standards across the towing industry and stand by our products. Please see the information below and note the differences in the strap types before choosing which strap is the best fit for you. Webbing Manufactured in the USA.
WEBBING TAGS: All assemblies sewn by B/A Products Co. have a tag which identifies the material and the Work Load Limit of the assembly.
Warranty
B/A Products Co. warrants that its products shall be free from defects in quality for a period of ninety (90) days from date of shipment. B/A Products Co. sole liability and customer rem- edy is limited to the replacement of any products determined by B/A Products Co. to be defective in quality; providing that claims for any defects are made within the warranty period. More Information Visit
BA Products