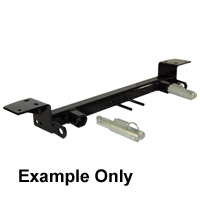 + Tap or click image to enlarge
TOW BAR BASE PLATE-BLUE OX 1110
TOW BAR BASE PLATE-BLUE OX
$

486.21
$554.95
You Save $68.74
InStock
SKU:
BX1110
IR - (Installation Rating) is a rough measure of the time required for baseplate or bracket installation by a trained installer. These numbers can be used as rough suggested installation time by a trained installer. The first installation of a particular baseplate, and installation by untrained individuals will likely increase installation time substantially.
WR - Vehicles that will accept a bulb wiring kit (BX8869 standard bulb & socket, BX88269 clear LED bulb kit or BX88267 red LED bulb kit) are denoted with a B, those that require a BX8847 wiring kit a 47 nad BX8848 kit a 48.
Type - Removable indicates Blue Ox baseplates that have removable attachment tabs, Standard indicates Blue Ox baseplates with standard attachment tabs, and D indicates Duncan bracket kits. Duncan bracket kits require the BX88230 adapter to use a Blue Ox towbar.
T. A T in the model notes, indicates vehicles that to the knowledge of Blue Ox may be towed without the addition of a drive shaft disconnect or lube pump. Honda's have a special procedure for towing (See Blue Ox Service Bulletins SB218 & SB219) and GM vehicles with the 4T40E or 4T45E automatic transmissions must have a fuse pulled for towing. For all other vehicles, please contact Remco Mfg. at 1-800-228-2481. In all instances, consult your vehicle's owner's manual before towing!

1. Bumper fascia must be removed and replaced during installation.
2. Requires some trimming of bumper (fascia, plastic, and/or grill).
3. Requires some drilling (not major).
7. Steel belly pan must be removed and remain off the vehicle after installation.
42. Vehicle may accumulate miles when flat towing. Consult your vehicle's owner's manual.
45. Due to the design of the baseplate, a second 5/16" hole can not be drilled to accomodate the RangeFinder II towbar.
47. The BX88152 adapter can not be used with this baseplate.