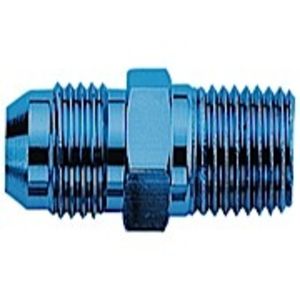 Aeroquip Adapter #8 ALUM M 1/4
Review This Item
$

3.76
Reg. Price $4.68
You Save $0.92
InStock
ADAPTER #8 ALUM M 1/4 NPT STR
SKU: FCM2006
Try Beaver Research Products
AEROQUIP ADAPTER #8 ALUM M 1/4 NPT STR
Specifications
FCM2006 AEROQUIP ADAPTER #8 ALUM M 1/4 NPT STR
Male AN To Pipe Adapter
-08AN Male
1/4 in. Pipe Size
Aluminum
Blue Anodized
Warranty
Eaton-Aeroequip warrants to the original purchaser that products sold shall be free from defects in material and workmanship for the warranty period applicable to the purchased product.
More Information Visit
Eaton-Aeroequip
$ 🛒
We have set this item's price lower than the manufacturer will let us advertise, so you'll have to add it to your cart to see our price. If you decide you don't want to purchase the item, you can remove it from your cart.