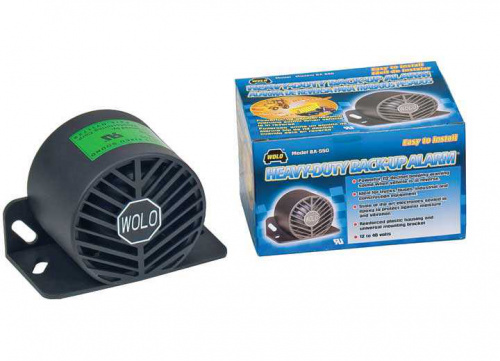 + Tap or click image to enlarge
BACK-UP ALARM WOLBA-550
COMMERCIAL / INDUSTRIAL GRADE. BACK-UP ALARM
$

42.00
$52.11
You Save $10.11
InStock
SKU:
WOLBA-550
BACK-UP ALARM
Easy to Install
112 db
Heavy-Duty Commercial Applications
Self Grounding Design
Operates from 12-48 VDC
Warranty
Wolo Manufacturing Corporation ("Wolo") warranties to the original purchaser, for three months from the date of purchase, that this product is free from defects in workmanship and materials. If there is such a proven defect, Wolo, at its option, will either repair or replace the item free of charge, if it is returned to Wolo within three months from the date of purchase together with proof of purchase as described below. Wolo reserves the right to inspect any defect prior to settling any warranty claim by repair or replacement. This warranty is limited as above provided and Wolo will not be responsible for fire or other casualty or accident, due to neglect, abuse, abnormal use, modifications, faulty installation of this product, or natural causes.
More Information Visit
Wolo