CS Series Model PTO CS6S-U6809
+ Tap or click image to enlarge
CS Series Model PTO
Manufacturer Lead Time: 11-12 Weeks
Product Details
PLEASE COMPLETE CONFIGURATION IN SHOPPING CART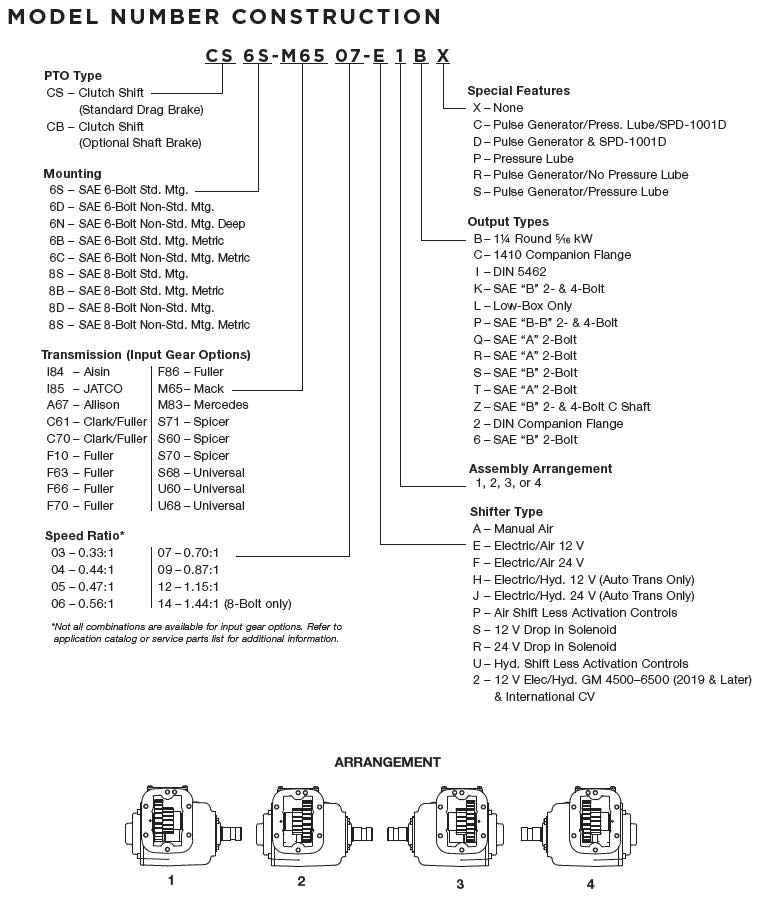 Configure These Power Take Offs In Shopping Cart
CS6S-U6809-A1BP
CS6S-U6809-A1BX
CS6S-U6809-A1IX
CS6S-U6809-A1KX
CS6S-U6809-A1QX
CS6S-U6809-A1SX
CS6S-U6809-A2BX
CS6S-U6809-A2CX
CS6S-U6809-A2KX
CS6S-U6809-A3BX
CS6S-U6809-A3CX
CS6S-U6809-A3KX
CS6S-U6809-A3TX
CS6S-U6809-A4BX
CS6S-U6809-A4KX
CS6S-U6809-E1BD
CS6S-U6809-E1BX
CS6S-U6809-E1CD
CS6S-U6809-E1CX
CS6S-U6809-E1KC
CS6S-U6809-E1KD
CS6S-U6809-E1KP
CS6S-U6809-E1KX
CS6S-U6809-E1PX
CS6S-U6809-E1SX
CS6S-U6809-E1ZX
CS6S-U6809-E3BX
CS6S-U6809-E3CD
CS6S-U6809-E3CX
CS6S-U6809-E3IX
CS6S-U6809-E3KD
CS6S-U6809-E3KX
CS6S-U6809-E3PX
CS6S-U6809-E3SX
CS6S-U6809-E32X
CS6S-U6809-E4KX
CS6S-U6809-F1CX
CS6S-U6809-F12X
CS6S-U6809-H1BP
CS6S-U6809-H1BS
CS6S-U6809-H1BX
CS6S-U6809-H1KD
CS6S-U6809-H1KP
CS6S-U6809-H3KX
CS6S-U6809-P1BX
CS6S-U6809-P1KX
CS6S-U6809-P1SX
CS6S-U6809-P3BX
CS6S-U6809-P3IX
CS6S-U6809-P3KX
CS6S-U6809-P3PX
Shipping
Warranty
The Muncie Power Take-Off is warranted to be free of defects in material or workmanship and to meet Muncie Power Products' standard written specifications at the time of sale. Muncie Power Products' obligation and liability under this warranty is expressly limited to repairing or replacing, at Muncie Power Products' option, within one year (two years on Allison World Transmission PTO's) after date of original installation any defective part or parts or any product not meeting the specifications.
This Warranty is in lieu of all other warranties, expressed or implied. Muncie Power Products makes no warranty of merchantability or of fitness for any particular purpose. Muncie Power Products' obligation under this warranty shall not include any transportation charges or costs of installation or any liability for direct, indirect, special, incidental, or consequential damages or delay. The remedies set forth herein are exclusive, and Muncie Power Products' liability with respect to any contract or sale or anything done in connection therewith, whether in contract, in tort, under any warranty, or otherwise, shall not, except as expressly provided herein, exceed the price of the product or part on which such liability is based.
If requested by Muncie Power Products, products or parts for which a warranty claim is made are to be returned transportation prepaid to Muncie Power Products. Any installation or use not in accordance with catalogue or package instructions, other improper use, operation beyond capacity, substitution of parts not approved by Muncie Power Products, use with equipment other than the equipment on which the Power Take-Off is first installed, or alteration, or repair made to the Power Take-Offother than at Muncie Power Products shall void this warranty. No employee or representative of Muncie Power Products is authorized to change this warranty in any way or to grant any other warranty.
Try Beaver Research Products