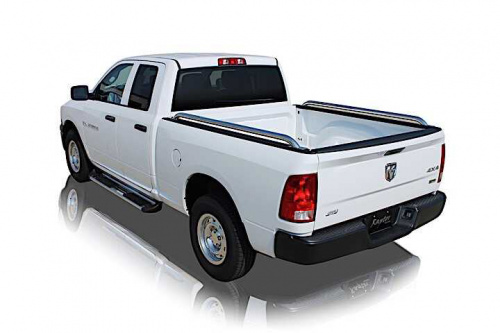 Raptor Bed Side Rail Bar 0202-0284
Review This Item
$

131.24
Reg. Price $157.49
You Save $26.25
InStock
09-13 RAM SB(5.5)/09-13 F-Series Super Crew SB95.5) SS Bed Rails
SKU: RAP0202-0284
Try Beaver Research Products
2009 - 2013 RAM SB(5.5)/09-13 F-SERIES SUPER CREW SB95.5) SS BED RAILS
| | | | | | | | |
| --- | --- | --- | --- | --- | --- | --- | --- |
| 2012 | RAM | 1500 | N/A | N/A | N/A | N/A | 67.4 INCHES |
| 2011 | FORD | F-150 | N/A | N/A | N/A | N/A | 67.0 INCHES |
| 2011 | RAM | 1500 | N/A | N/A | N/A | N/A | 67.4 INCHES |
| 2010 | DODGE | RAM 1500 | N/A | N/A | N/A | N/A | 67.4 INCHES |
| 2010 | FORD | F-150 | N/A | N/A | N/A | N/A | 67.0 INCHES |
| 2009 | DODGE | RAM 1500 | N/A | N/A | N/A | N/A | 67.4 INCHES |
| 2009 | FORD | F-150 | N/A | N/A | N/A | N/A | 67.0 INCHES |
Warranty
CYC Engineering, Inc. guarantees the original purchaser of our products a limited lifetime warranty from the date of original purchase against manufacturer defects in materials, workmanship and finish under normal use. The step pads are covered under warranty for 1 year. This warranty does not include damage resulting from road hazards such as gravel or other debris, product misuse, improper installation, impairments from accidents, product modifications, product neglect or scratches during the life of the product. This limited lifetime warranty applies only to new products and is limited to the repair or replacement of company's products.
More Information Visit
Raptor
$ 🛒
We have set this item's price lower than the manufacturer will let us advertise, so you'll have to add it to your cart to see our price. If you decide you don't want to purchase the item, you can remove it from your cart.