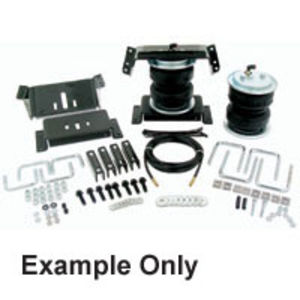 + Tap or click image to enlarge
AIR LIFT LOAD LIFTER-FRONT
00-05 EXCURSION 4WD, 99-04 F250 & F350 2&4WD, 94-04 F450, F550 2&4 WD ADJ LOAD SUPPORT FRONT
$

531.21
$540.95
You Save $9.74
InStock
SKU:
AL-57154
LoadLifter 5000 kits are Air Lift's heaviest-rated air spring kits, specifically engineered for hauling or towing heavy loads. Rugged and durable, these superior air springs are constructed from ultra high-strength composite nylon and reinforced by 2-ply fabric. Built like a tire, LoadLifter 5000 air springs are strong as steel, but are lighter and corrosion proof. These air springs are designed to fit popular vehicles like 3/4 ton and one-ton pickup trucks, motor homes, commercial trucks and other severe uses.
Air Lift adjustable air springs increase your safety and comfort when towing and hauling heavy loads. Our air springs work with your existing suspension, giving your vehicle leveling capacity when you need it. Load Lifter 5000 air springs provide up to 5,000 pounds of leveling capacity. A level, stable vehicle results in better braking, steering, and headlight aim. Our heavy-duty air springs also reduce sway, "porpoising", and bottoming out, while maximizing ride comfort.
Load Lifter air springs fit easily between the leaf spring and your vehicle's frame to provide suspension support when and where you need it. To operate, just add air to the air springs if you are carrying a heavy load to make sure that your vehicle remains level and stable. Then, deflate when riding empty.

Load Lifter 5000 air springs give your vehicle up to 5,000 pounds of leveling capacity. The springs are fully adjustable from 5 to 100 PSI via air line tubing, which is included in the kit. For optimal safety, never exceed your manufacturer's recommended Gross Weight Rating.

The kit includes 2 air springs, brackets, air lines, Schrader valve and all of the hardware you need for installation. Load Lifter 5000 air spring kits are engineered to be installed quickly in under 2 hours. You can install them yourself or one of our installers throughout the US and Canada can take care of it for you. A fully illustrated, user-friendly instruction manual is included with each kit and you can watch our short installation instruction video here.

Each LoadLifter 5000 kit includes Air Lift's exclusive upper and lower roll plates. These plates increase your load capacity by 10% and protect the air springs from sharp edges such as brackets or the vehicle's frame.

All Air Lift adjustable air springs are backed by the best warranty in the industry and we are the only company that provides a Lifetime Warranty on air springs and hardware. We also offer a 60-day "No Questions Asked" Money Back Guarantee. If you're not happy with your Air Lift air springs, simply return the kit to the retailer or installer where you purchased it to receive a full refund

Load Lifter 5000 air springs inflate and deflate through a Schrader valve. For convenient air spring control at the touch of a button add a onboard air compressor.

LoadLifter 5000 kits are quality tested in our ISO 9001:2008 certified facility. ISO 9001:2008 standards ensure Air Lift products meet the highest level of safety and comfort.
| | | | |
| --- | --- | --- | --- |
| Year | Make | Model | Vehicle Qualifier |
| 2005 | FORD | EXCURSION | 4WD |
| 2004 | FORD | EXCURSION | 4WD |
| 2004 | FORD | F-250 SUPER DUTY | 4WD |
| 2004 | FORD | F-350 SUPER DUTY | 4WD |
| 2004 | FORD | F-450 SUPER DUTY | |
| 2004 | FORD | F-550 SUPER DUTY | |
| 2003 | FORD | EXCURSION | 4WD |
| 2003 | FORD | F-250 SUPER DUTY | 4WD |
| 2003 | FORD | F-350 SUPER DUTY | 4WD |
| 2003 | FORD | F-450 SUPER DUTY | |
| 2003 | FORD | F-550 SUPER DUTY | |
| 2002 | FORD | EXCURSION | 4WD |
| 2002 | FORD | F-250 SUPER DUTY | 4WD |
| 2002 | FORD | F-350 SUPER DUTY | 4WD |
| 2002 | FORD | F-450 SUPER DUTY | |
| 2002 | FORD | F-550 SUPER DUTY | |
| 2001 | FORD | EXCURSION | 4WD |
| 2001 | FORD | F-250 SUPER DUTY | 4WD |
| 2001 | FORD | F-350 SUPER DUTY | 4WD |
| 2001 | FORD | F-450 SUPER DUTY | |
| 2001 | FORD | F-550 SUPER DUTY | |
| 2000 | FORD | EXCURSION | 4WD |
| 2000 | FORD | F-250 SUPER DUTY | 4WD |
| 2000 | FORD | F-350 SUPER DUTY | 4WD |
| 2000 | FORD | F-450 SUPER DUTY | |
| 2000 | FORD | F-550 SUPER DUTY | |
| 1999 | FORD | F-250 SUPER DUTY | 4WD |
| 1999 | FORD | F-350 SUPER DUTY | 4WD |
| 1999 | FORD | F-450 SUPER DUTY | |
| 1999 | FORD | F-550 SUPER DUTY | |
Warranty
Standard limited lifetime air spring warranty— no mileage restriction! Air Lift Company warrants that Air Lift 1000, RideControl, LoadLifter 5000, LoadLifter 5000 ULTIMATE and AirCell air springs systems will be free from defects in workmanship or materials for the lifetime of the vehicle of original installation. This does not include installation or other service charges for replacement. More Information Visit
AIR LIFT