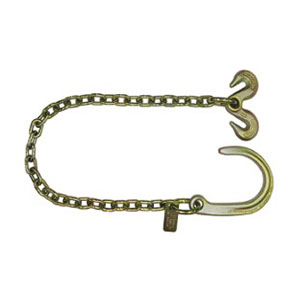 + Tap or click image to enlarge
ULTIMATE AXLE CHAIN; 8″ J HOOK & GRAB HOOKS
Review This Item
5/16"x3' G70 ULTIMATE AXLE CHAIN W/8" J HOOK ONE END, (2) GRAB HOOKS OTHER END
$

34.13
$45.50
You Save $11.37
InStock
SKU:
N711-AC3
5/16"x3' G70 ULTIMATE AXLE CHAIN W/8" J HOOK ONE END, (2) GRAB HOOKS OTHER END
These 5/16″ Chains provide an 8″ J Hook on one end and two standard Grab Hooks on the other end. This product comes in lengths of 3'."ULTIMATE" Axle Chains
Quickly and easily chain up forward axles of tractor when performing a rear tow.
No more crawling under the truck in the snow, mud, sand or rain to pass a 10 foot chain through and then have to use a binder to hold the suspension up. Simply pass the 8″ J Hook between the frame rail and the tires and hook it under the axle or a weight bearing suspension bracket. Then take one of the grab hooks on the top of the chain and "grab" the frame rail. Now use the second grab hook to shorten the chain in order to take as much slack out of the chain as you can. When you lift the rear of the road tractor the chain will tighten. The most "drop" would be the length of 1 chain link.