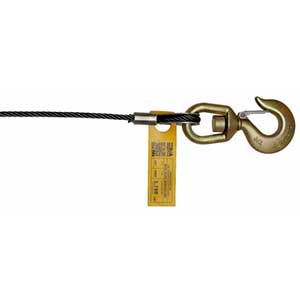 + Tap or click image to enlarge
3/4" x 200' STEEL CORE WIRE ROPE W/ALLOY SWIVEL HOOK
3/4"x200' STEEL CORE WIRE ROPE W/ALLOY SWIVEL HOOK 4-34EI200S
$

948.33
$1,313.24
You Save $364.91
InStock
SKU:
4-34EI200S
Working Load Limits @ 3.55:1 (16,560 lbs.)
Minimum Break Strength (58,800 lbs.)
How to Use
Warning: Never exceed working load limit (WLL at 3.55:1)
All B/A Wire Rope Assemblies are made with Extra Improved Plow Steel for superior strength & flexibility. WIRE ROPE WINCH LINE TAGS. The general specifications, warnings & working load limits are printed clearly on each tag for your safety and convenience.
Additional items you might be interested in: