3/8" x 100' SYNTHETIC WINCH LINE W/HOIST HOOK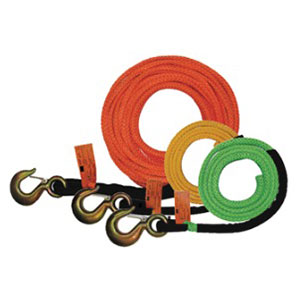 + Tap or click image to enlarge
3/8"x100' SYNTHETIC WINCH LINE W/HOIST HOOK
Product Details
BENEFITS: Extremely high strength, lightweight, abrasion resistant, low stretch, super tough/high wear, flexible, more torque/layer, safer handling, no razor edges, low recoil, 1/7th the weight of steel cable.
SAFETY: Should your synthetic rope break, the energy released is much less than that of steel cable. Also, the rope is lighter and softer, reducing the chances of injury even further.
LIGHTWEIGHT: Weighs significantly less (1/7th the weight) of steel cable, making it much easier to use and handle, especially on long recoveries where extensions may be needed.
NO MEMORY MEANS NO FLAT SPOTS OR KINKS: Even if the rope winds back on itself in the winch, any visible flat spots are purely aesthetic and disappear once put under load.
FLOATS ON WATER: For those that do a lot of water recoveries, this property has a profound impact on safety and ease of use.
SIZE COLOR CODING: We have created each size of synthetic rope with its own color, making it easy to identify its size and WLL.
"BIRD NESTING" NO LONGER AN ISSUE: Again, the rope can wind back on itself and dig back into itself, however, it will cause no damage to the rope and is easier to pull out vs. steel cable.
SAFER ON HANDS: The rope is smooth with no burrs, reducing the chance of cuts and injuries during usage.
Specifications
WLL: 4,100 (Orange)
Shipping
Warranty
B/A Products Co. warrants that its products shall be free from defects in quality for a period of ninety (90) days from date of shipment. B/A Products Co. sole liability and customer rem- edy is limited to the replacement of any products determined by B/A Products Co. to be defective in quality; providing that claims for any defects are made within the warranty period. More Information Visit
BA Products
Try Beaver Research Products