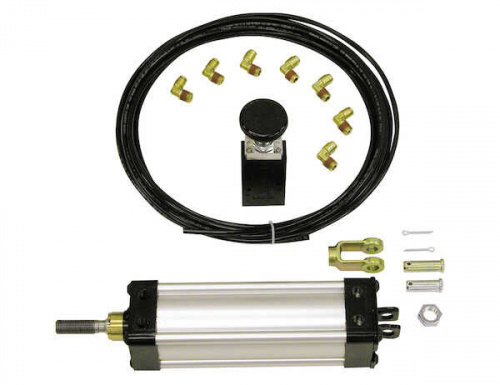 + Tap or click image to enlarge
BUYERS PNEUMATIC CYLINDER TAILGATE KIT EXTRUDED AL TGC25008VSPK
2-1/2in x 8in Clevis Mount Cylinder Kit
$

212.06
$339.30
You Save $127.24
InStock
SKU:
TGC25008VSPK
Pillow valves give a smooth performance and prevent piston from hitting inner walls of the cylinder.
Durable extruded aluminum body can be used on variety of tailgate applications.
Offered in a variety of sizes, cylinders have a clevis style mount.
Keep your tailgate operating smoothly with Buyers Products Tie Rod Cylinder Kit. Each cylinder houses and protects an enclosed tie rod in a durable extruded aluminum body. Kits include everything to install the tie rod cylinder, including air valve and tubing.
The cylinders are ideal for dump truck operators to engage and disengage tailgate latches from inside their vehicle without having to leave the cab
Extruded Aluminum Body
5/8" -18 Threaded Piston Rod
1/4" NPT Port Threads
1/2" clevis mount (Removable for Hinge Mount)
Pillow Valves (Prevents Piston from Hitting Inner Walls)
Includes Two 1/2" Clevis Pins
Includes One 5/8" -18 Threaded Adjustable Yoke
Includes Cotter Pins
Includes Valve, 7 Fittings and 75' Tubing