+ Tap or click image to enlarge
CENTRAL HYDRAULIC SYSTEM 6 FUNC,15 GAL,WO/GPS
CENTRAL HYDRAULIC SYSTEM 6 FUNC,15 GAL,WO/GPS
$

4,771.69
$7,634.70
You Save $2,863.01
InStock
SKU:
6381560
Out Of Stock - Call For Availability
CENTRAL HYDRAULIC SYSTEM 6 FUNCTION,15 GALLON ,WITHOUT/GPS
Reservoir Volume

15 Gal

Reservoir Material

304 Stainless Steel

Reservoir Mount Position

Side Mount

Number Of Functions Supported

6

Hoist Action

Power Up/Power Down - 1 Port Relief

Plow Action

Power Up/Power Down

Spreader Control Included?

Yes

Spreader Control Type

Electric Over Hydraulic

Spreader Controller

HVC06

Plow Control Included?

Yes

Plow Control Type

Electric

Hoist Control Included?

Yes

GPS Capable?

No

GPS Included?

No

Oil Level/Temperature Gauge Included?

Yes

Inlet Port

3/4 SAE ORB (-12)

Work Ports

1/2 SAE ORB (-8)

Outlet Port

2 NPT

Suction Port

3/4 SAE ORB (-12)

Auger/Chain Port

1/2 SAE ORB (-8)

Spinner Port

1/2 SAE ORB (-8)

Main Relief Setting

1500 PSI

Port Relief Hoist

500 PSI

Port Relief Angle

1500 PSI

Maximum Flow Rate

28 GPM

Maximum Pressure

3000 PSI

Return Line Filter Included?

Yes

Return Line Filter Flow Rating

26 GPM

Return Line Filter Rating

25 µm

Suction Filter Included?

Yes

Suction Filter Flow Rating

49 GPM

Suction Filter Rating

150 µm

Magnetic Drain Plug

Yes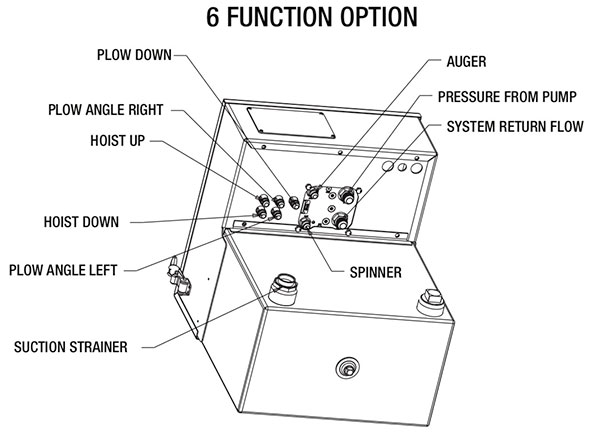 Warranty
Buyers Products warrants all products and hardware manufactured, and/or distributed by it (except those specified) to be free from defects in material and workmanship for a period of one (1) year from date of shipment. Parts must be properly installed and used under normal conditions. Any product which has been altered, including modification, misuse, accident, or lack of maintenance will not be considered under warranty. Normal wear is excluded. The sole responsibility of Buyers Products under this warranty is limited to repairing or replacing any part or part which are returned , prepaid, and are found to be defective by Buyers Products. Authorization from Buyers Products must be obtained before returning any part. No charges for transportation or labor performed on Buyers' products will be allowed under this warranty.