Buyers Pintle Hook - 30 Ton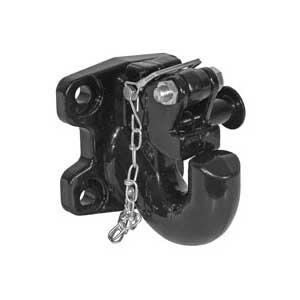 + Tap or click image to enlarge
Pintle Hook - 30 Ton
Product Details
30 TON PINTLE HOOK
Easy-to-use latch and drop-forged steel jaw.
Durable and corrosion-resistant powder coating.
The bolt-on 30 Ton Pintle Hook from Buyers Products features tough, drop-forged steel construction and a black powder-coated finish for maximum durability and resistance to corrosion.
Ideal for contractors and haulers of heavy equipment, the hook will handle maximum gross towing weights of up to 60,000 lb.
Each pintle hook includes mounting information, specs sheet, drilling template, and vehicle capacity decal. It is available with just the pintle hook or sold with a mounting kit.
Specifications


Drop forged alloy steel.
Black powder coat finish.
Drawbar eye dimensions: 2-3/8" to 3" I.D. with 1-3/8" to 1-5/8" dia. section.
Individually boxed.
Interchanges with Wallace® R-30.
M.G.T.W.: 60,000 lbs.
M.V.L.: 15,000 lbs.
Additional items you might be interested in