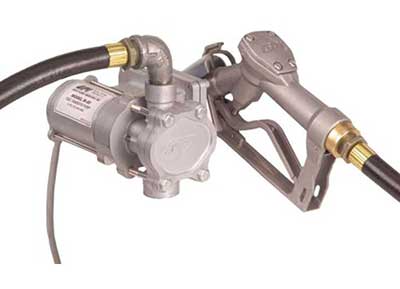 + Tap or click image to enlarge
ELECTRIC/HAND HELD PUMP 137100-01
EZ8 8 GPM - 12 VOLT PUMP
$

351.25
$400.65
You Save $49.40
InStock
SKU:
GPI137100-01
GREAT PLAINS EZ8 8 GPM - 12 VOLT FUEL PUMP
DELIVERS UP TO 8 GPM, 12 VOLT, USE WITH GASOLINE (ALCOHOL BLENDS UP TO E15), DIESEL FUEL (BIODIESEL BLENDS UP TO B20) AND KEROSENE, UL LISTED MOTOR, DUTY CYCLE 15 MIN. ON / 30 MIN. OFF, INCLUDES MANUAL NOZZLE, 10 FEET X 5/8IN DISCHARGE HOSE, 15FT X 14 AWG POWER CORD, THREE PIECE TRIM TO FIT SUCTION PIPE
Specifications
Model
EZ-8

Design Type
Rotary Gear

Voltage
12 Volts DC

Flowrate
Up to 8 GPM
Up to 30 LPM

Duty Cycle
15 Minutes On / 30 Minutes Off

Power Cord
15 ft
4.6 m
14/2 AWG

Nozzle
Manual

Mechanical Connection
¾ in. Inlet
¾ in. Outlet

Suction Pipe
Three-piece, Trim-to-fit

Hose
10 ft
5/8 in. diameter

Motor Protection
Internal, auxiliary temperature-limiting device

Unique Features
Gas station equivalent flowrate - direct tank mounting.

To Use With
Diesel fuel, Up to 20% biodiesel blends such as B20, Gasoline, Up to 15% alcohol blends such as E15, Kerosene

Approvals View
CSA Certified
U.L. Listed

Warranty
2 Years
Warranty
Great Plains Industries, Inc. provides a limited warranty against defects in material and workmanship on all products manufactured. This product includes a 1 year warranty from date of purchase as evidenced by the original sales receipt. A 30 month warranty from product date of manufacture will apply in cases where the original sales receipt is not available.
More Information Visit
Great Plains Industries