C2 Liftgate 1300lbs. Aluminum Platform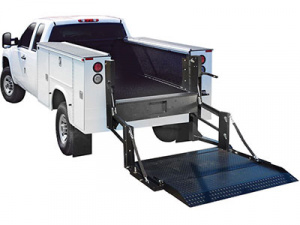 + Tap or click image to enlarge
For Service/Utility Bodies 49" X 27" Aluminum Platform
Manufacturer Lead Time: 13 Weeks
Product Details
49" X 27" Aluminum Platform
Me2 standard features
Dual hydraulic lifting cylinders

Maintenance-free components

Protected / recessed maincontrol with time-out feature

Steel or aluminum platforms

Fully-enclosed hydraulic system
Shipping
Warranty
Type of Warranty:
Full Parts and Labor

Term of Warranty:
Standard Liftgates - 2 years from ship date or 6,000 cycles
Premium Liftgates - 2 years from ship date or 10,000 cycles

This warranty shall not apply unless the product is installed, operated and maintained in accordance with MAXON Lift's specifications as set forth in MAXON Lift's Installation, Operation and Maintenance manuals. This warranty does not cover normal wear, maintenance or adjustments, damage or malfunction caused by improper handling, installation, abuse, misuse, negligence, or carelessness of operation. In addition, this warranty does not cover equipment that has had unauthorized modifications or alterations made to the product.

MAXON agrees to replace any components which are found to be defective during the warranty period, and will reimburse for labor based on MAXON's Liftgate Warranty Flat Rate Schedule. (Copy of the Flat Rate is available here)

All warranty repairs must be performed by an authorized MAXON warranty facility. For any repairs that may exceed $500, including parts and labor, MAXON's Technical Service Department must be notified and an "Authorization Number" obtained.
Returns
All Maxon Part returns are subject to the 30% restocking fee. Be sure to verify the parts BY MODEL, SERIAL NUMBER AND PRODUCTION DATE before ordering.