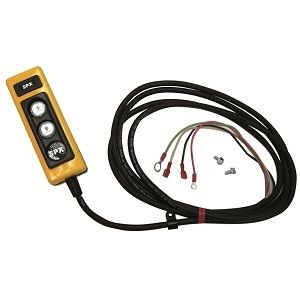 + Tap or click image to enlarge
Liftgate Hand-held Remote 4-Wire Dual Action BPL2783 Del America
Review This Item
2 Button Remote 4 Wire
| | | |
| --- | --- | --- |
| Quantity | 1 | 2+ |
| Price | $135.00 | $135.00 |
| On Sale! | $87.38 | $81.00 |
SKU:
BPL2783
Features
Rugged, ABS Yellow Housing.
Sealed to I.P. 65.
Two magnets for easy mounting.
10ft cord.
Interlocked to prevent simultaneous operation.
Built-in finger guard.
Remote Control
Cord Length: 10ft
AWG/Conductors: 16/4
4-Wire
Dual Action
Replacement for
Del America 20970
Tri Star KG13
Warranty
We warrant for a period of nine (9) months from the date of shipment that articles supplied by National Liftgate Parts will be free from defects in materials and workmanship. We agree to repair, or at our option, to replace (F.O.B. our warehouse) articles found to be defective in material or workmanship which are brought to our attention within nine (9) months from date of shipment. No claims for damages or for labor or expense required for repair of defective articles or caused by them will be allowed.