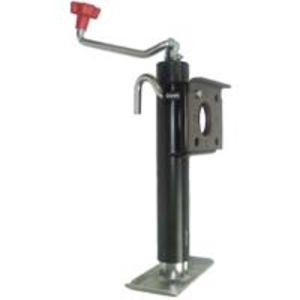 SWIVEL TRAILER JACK COMES WITH A WELD-ON MOUNTING BRACKET
Review This Item
$

51.81
Reg. Price $60.95
You Save $9.14
InStock
JACK - SWIVEL BRACKET MOUNT
SKU: TJB-2001-B
Try Beaver Research Products
This Swivel Trailer Jack comes with a weld-on mounting bracket, solid-bar crank handle and red claw knob. Swivel brackets have 1/2 inch pull pin.
Specifications
Weld-on topwind swivel jack with mounting bracket
Solid-bar crank handle with red claw knob
Zinc plated inner tube with disc foot
Rating : 2,000 lbs
Travel : 10 inches
Extended : 25.25 inches
Retracted : 15.25inches
Black powder coat finish
$ 🛒
We have set this item's price lower than the manufacturer will let us advertise, so you'll have to add it to your cart to see our price. If you decide you don't want to purchase the item, you can remove it from your cart.