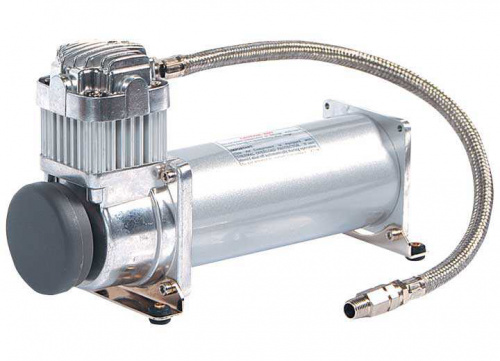 + Tap or click image to enlarge
Compressor Kit VIAIR 450C
450C COMPRESSOR KIT
450C is a continuous duty cycle compressor. Features include a standard 1/4" NPT stainless steel braided leader hose with inline check valve and insulated wiring for simple installation.
$

371.00
$445.44
You Save $74.44
InStock
SKU:
VIA45040
450C COMPRESSOR KIT
Check Valve
Vibration Isolators
Mounting Hardware
Stainless Steel Braided Leader Hose
Air Line for Remote Mount Air Filter
Remote Mount Air Filter Assembly
(2) Replacement Air Filter Elements
Installation Instructions
SPECIFICATIONS:
12-Volt
Permanent Magnetic Motor
Duty Cycle: 100% @ 100 PSI
Max. Working Pressure: 150 PSI
Max. Air Tank Size: 5.0 Gallon
Max. Amp Draw: 23 Amps
Dimensions: 10.6"L x 4"W x 6.87"H
Net Weight: 10.80 lbs.
Warranty
VIAIR Corporation warrants this product to the end-user, when properly installed and under normal conditions of use, to be free from defects in workmanship and materials for a period of one year from the provided date of purchase for the original purchaser of the product. This warranty does not cover abuse, operation in a manner inconsistent with the product's design, or damage resulting from exposure to the elements. If the defect is considered "under warranty", VIAIR will, at its option, repair or replace the product free of charge to the person who purchased the product. More Information Visit
VIAIR CORP