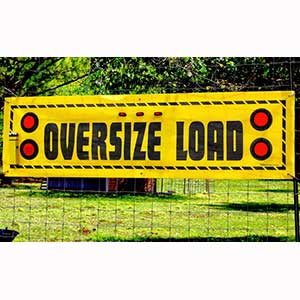 + Tap or click image to enlarge
TowMate TMBN8S Lighted Oversize Load Banner
Review This Item
TowMate TMBN8S Lighted Oversize Load Banner
$

625.00
$685.00
You Save $60.00
InStock
SKU:
TMBN8S
The new standard for those who haul oversize loads. The TMBN8S is an 8' wide oversize load banner that features wireless turn signals, brakes, and running lights. Powered by the TowMate Lithium Ion power supply, this setup will run 8+ hours straight. Grommets in each of the four corners ensure that any strap will have a secure place to fasten to. Additionally, each light is riveted to a backing on the rear of the banner to keep them securely fastened.
Best of all, when the job is done simply roll it up and tuck it away. The system includes banner w/2x 4" round LED S/T/T lights, 2x 4" round LED amber strobes, 3x 2" center LED marker lights, Lithium battery/Receptacle, 12V DC charging station and transmitter of your choosing (standard is 7-Pin Round).
Warranty
TOWMATE will gladly accept the return of products that are defective due to defects in manufacturing and/or workmanship. Fulfillment mistakes that may be made which result in the shipment of incorrect products to you will also be accepted for return. More Information Visit
TOWMATE
.