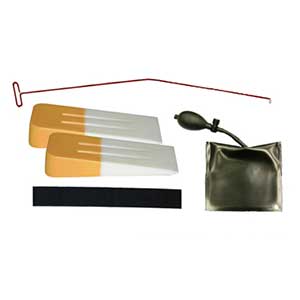 Door Tool Kit
Review This Item
$

60.38
Reg. Price $80.50
You Save $20.12
InStock
Door Tool Kit
SKU: 12-DK1
Additional items you might be interested in:
New convenient door tool kit has all of your staple items in one package. Includes a 1"x 12" Cordura sleeve for ultimate protection of the the vehicle's door jamb.
Specifications
This Door Kit Includes:
(2) Plastic Window Wedges
(1) Red Alert Door Tool (54" Length)
(1) Inflatable Air Wedge
(1) 1"x12" Protective Sleeve
Warranty
B/A Products Co. warrants that its products shall be free from defects in quality for a period of ninety (90) days from date of shipment. B/A Products Co. sole liability and customer rem- edy is limited to the replacement of any products determined by B/A Products Co. to be defective in quality; providing that claims for any defects are made within the warranty period. More Information Visit
BA Products
$ 🛒
We have set this item's price lower than the manufacturer will let us advertise, so you'll have to add it to your cart to see our price. If you decide you don't want to purchase the item, you can remove it from your cart.