50 Gallon Upright Reservoir/Direct Mount Pump Wetline Kit CCW With Steel Tank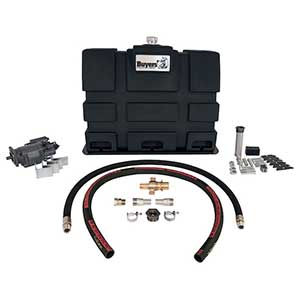 + Tap or click image to enlarge
WETLINE KIT DIRECT MOUNT PUMP CCW
Product Details
The Upright Reservoir/Direct Mount Pump Wetline Kit from Buyers Products has everything you need to set up a dump hydraulic system.
Choose from a steel, polymer, or aluminum reservoir with a 50 gal or 70 gal capacity. All versions come with a cast iron pump/valve assembly rated at 46 GPM at 1800 RPM.
Specify clockwise or counterclockwise rotation based on the PTO operation. Contact Customer Service for assistance.
The wetline kit includes:
(1) Upright reservoir; (1) Frame bracket kit with fasteners; (1) Reservoir isolation package; (1) 46 GPM at 1800 RPM cast iron pump/valve combination with brackets; (1) 6 ft internally reinforced 1-1/4 in. suction hose; (2) 1-1/4 in. barbed adapter fittings; (2) 1-1/4 in. stainless steel hose clamps; (1) 1 in. high pressure swivel adapter; (1) 1 in. wing-type high pressure quick detach coupling; and (1) 1 in. high pressure hose, 6 ft long.
Try Beaver Research Products