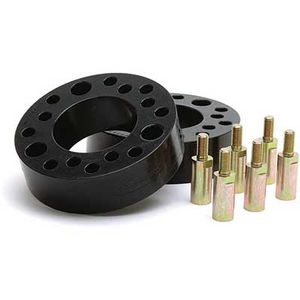 + Tap or click image to enlarge
DAYSTAR LEVELING KIT KF09124BK 09-C FORD F150 2in LEVELING KIT 09-C FORD F150 2in LEVELING KIT
09-C FORD F150 2in LEVELING KIT
$

102.50
$136.00
You Save $33.50
InStock
SKU:
KF09124BK
2009-C FORD F150 2in LEVELING KIT
Durathane progressive polyurethane technology to engineer polyurethane suspension coil spacer lifts, replacing the traditional aluminum or steel spacers that have been used over the years. Most late model suspension lifts have converted from leaf springs and torsion bars to coil spring suspension systems and coil-over shocks. Daystar Products has risen to meet the need for this new type of suspension lift to cater to the new demands of coil-sprung vehicles. Why is polyurethane better? Polyurethane is an elastomer, so it works just like a spring, giving you all of the strength and durability of metal, without destroying the ride quality. This is why Daystar has named their suspension systems Comfort Ride. These lift kits not only lift the vehicle, but actually improve the handling characteristics, while preserving the stock factory ride quality.
Daystar Leveling Kits work within the factory suspension design, meaning that we work within the factory's design parameters to achieve an increase in ride height that levels the stance of the vehicle. Because we work within the factory's design, there are not a bunch additional modifications involved. Everything needed is included in the kit; there's everything you need and nothing you don't. If there are extra items required, such as longer shocks, it's clearly stated in the application description.
Features:

ComfortRide™ Suspension Coil Spring Spacer Kit

High Density Progressive Polyurethane

Lifts Vehicles Without Sacrificing Ride Quality or Load-Carrying Capacity

Easiest Way to Add 20"-22" Wheels and Increase Ground Clearance

No Metal-on-Metal Contact as with Other Leveling Kits

Maximum Recommended Tire Size for F-150: 33x12.5-18; For Expedition: 32"

Limited Lifetime Warranty

Includes Front Lift Only to Level the Stance of the Vehicle

Top-Mount Easy-Install Design - No Special Tools Required For Installation
Year
Make
Model
Submodel
Engine Type
Engine Size
Fuel Type
Vehicle Qualifier
2013
FORD
F-150
N/A
N/A
N/A
N/A
2012
FORD
F-150
N/A
N/A
N/A
N/A
2011
FORD
F-150
N/A
N/A
N/A
N/A
2010
FORD
F-150
N/A
N/A
N/A
N/A
2009
FORD
F-150
N/A
N/A
N/A
N/A
Warranty
Lifetime Go Everywhere Limited Warranty
Daystar warrants to the initial retail purchaser that your Comfort Ride or Budget Boost leveling kit shall be free of defects in material and workmanship for so long as it is properly installed on a single vehicle owned by the initial retail Daystar purchaser.
More Information Visit
DayStar