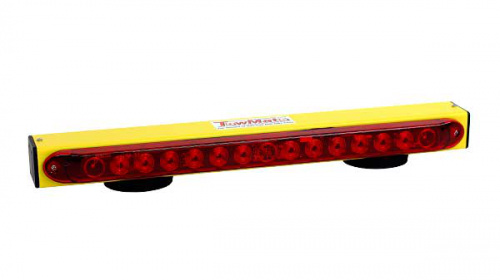 + Tap or click image to enlarge
TowMate TM22Y Wireless Tow Light Bar
(1)
22" LED Light Bar
$

220.00
$245.00
You Save $25.00
InStock
SKU:
TM22Y
The TM22Y "Sun Light" is TowMate's BEST SELLING wireless tow light measuring in at 22" wide and contains 14 LED's providing stop, tail, and turn signals wirelessly. This is a basic unit, meaning that it is not compatible with the iMON reminder system. The TM22Y has 90LB pull magnets with rubber boots and is non-upgradeable. It carries the same great TowMate lifetime warranty as all our other wireless light bars and is proudly made in the USA.
(Uses one 12V1.3Ah Battery)
Durable PVC housing
Recharges from 12V
Lifetime warranty on electronics & LED's
Up to 10 hours of use between recharge
Approx. 1000' range
Systems come complete with transmitter, light, charge cord, foot covers and instructions.
Featured positive reviews:
big wills
02/04/2017
love them should have ordered a long time ago towing would have been easyier